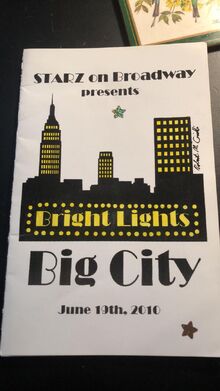 Bright Lights, Big City!
was the ninth annual dance recital tour by Starz on Broadway. The recital took place on June 19, 2010 at Beach Channel High School in Rockaway, New York.
First Half
Edit
Opening - Lucky Be A Lady JR./SR. COMPANY
Viva Rock Vegas
Krazy
Man in the Mirror
Poker Face - SR. COMPANY
The Climb
Jailhouse Rock
Pump It
Can Can - JR. COMPANY
Set the Fire to the Third Bar - SR. COMPANY
I'm in Miami Trick
Party in the U.S.A.
Motown Philly
Swan Lake - JR./SR. COMPANY
Second Half
Edit
Jai Ho - SR. COMPANY
Pretty Woman
Viva La Vida - JR. COMPANY
Greased Lightning
Ay Macalena - SR. COMPANY
Baby
Vogue
Hey Baby
A Little Bit
Tonight's Gonna Be a Good Night
Borequa Anthem - JR. COMPANY
Mony Mony
Oh My Gosh
You Found Me
Telephone
Finale - New York Medley JR./SR. COMPANY
Starz Staff
Edit
Directors Edit
Vincenza Tomassetti
Lisa Fabrizio
Teachers Edit
Amanda Bartolomeo
Alinna Della Penta
Lisa Fabrizio
Tina Rocco
Michelle Schiavone
Nicole Schiavone
Brittany Stigliano
Secretary Edit
Special Thanks!!
Edit
Beach Channel High School Edit
Sound & Lighting
Horizon Entertainment (718) 382-2007
Video
East Coast Productions (914) 793-8500
Photography
Lasting Impressions (631) 539-8890