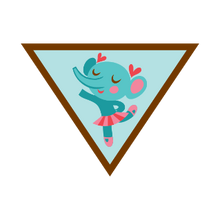 The
Dancer
Try-it is part of the "It's Your World - Change It!" badge set introduced in 2011 for Girl Scout Brownies.
Girl Scout Brownies will learn to:
Warm up and get moving
Try a new dance
Take to the floor like a dancer
Make up your own dance 
Show your moves!
When a Girl Scout Brownie has earned this badge, she will have explored the world of dancing -- and found the dancer inside of me.
This badge comes in a packet that includes the Computer Expert, My Best Self, Dancer, Home Scientist, and My Family Story badges.