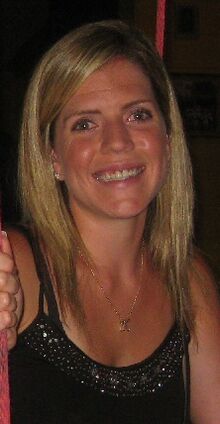 Kate Halloran
(b. September 22, 1983 in Sydney, Australia) is an Australian dance teacher at the Halloran School of Dance.
Kate studied Irish National Dancing, Classical Ballet, Jazz, Tap, Modern and Contemporary.
Kate commenced dancing at two years of age and continued training until sitting her Irish teachers exam in 2007.
After representing The Halloran Dance School, for many years in both national and international competitions, Kate went on to study a Bachelor of Education Primary. She graduated in 2005 and has been teaching in schools full time ever since. She also teaches dance to the students at school as part of a Creative Arts Program.
Kate is a T.C.R.G in Irish Dancing and has been teaching both Irish and Ballet at the Halloran Dance School since the age of 15. Kate has performed in a variety of things over her dancing career, including many Wiggles videos, The Wiggles Movie, the Irish dancing stage show "Haste to the Wedding" and Christmas at the Opera House pantomimes.
Kate loves working at the studio and hopes to be involved with the Halloran Dance School for many more years to come.